With your local Stewart's Shop right around the corner, you can count on us for your essentials including gas, eggs, milk, bread, and even ice cream.  Many customers prefer the quick in and out at their local Stewart's instead of the big grocery stores and we can all agree that smaller is nicer.
Here are just some of the ways we are here for you in these uncertain times:
Fresh and Local Milk & Eggs
Our milk comes from 25 local farms and makes it way to the shop in 48 hours or less! We pick up milk every day. The milk is brought back to our dairy where it is pasteurized, not ultra-pasteurized (which gives the fresh flavor vs other milk with that cooked flavor), and bottled. Our eggs are picked up daily from the Thomas Poultry Farm in Schuylerville, NY. And good news, because of our vertical integration, milk and eggs are in stock and available for you; we aren't seeing inventory issues like many others.
Grocery Items
Short on toilet paper? We have you covered. Need canned vegetables, cake mix or a loaf of bread? We have that too. And many shops even carry frozen items including Eggo® waffles, vegetables, chicken strips and prepared meals like Viola®  Lo Mein. These options make it easy to skip the crowded grocery store and get what you need fast.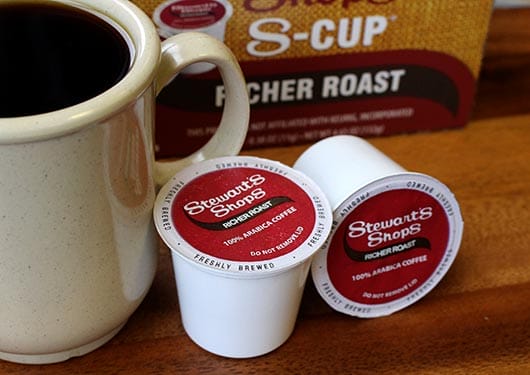 Coffee
Stewart's coffee is a customer favorite for a reason! Make your own or if your prefer, our Partners make will make it for you. Or take home S-Cups or a bag of coffee and enjoy Stewart's coffee at home.
Now and Then Items Made in the Stewart's Kitchen
Just like mom used to make, we have Meatballs, Penne Marinara, Chicken Alfredo, Cheese Manicotti, Mac & Cheese and even Jambalaya. Grab it now and enjoy it later! Now that is dinner made EASY!
Stewart's fan and Times Union food editor, Steve Barnes, tried the Stewart's Now and Then Penne Marinara entree for the first time and said, "It was great — far better than major brands I have tried over the years. There was actually a lot of meat in it, and the red sauce was thick and tasty. Eating it, I felt I was enjoying Mrs. Dake's family recipe."

Pizza
Stewart's is your pizza shop. Call your shop and order ahead for pickup. Select shops offer Breakfast Pizza, Buffalo Chicken, Bacon Chicken Ranch , Cheese, Pepperoni and Sausage pizza selections.

Packaged Ice Cream
Let's face it, many of us are stuck home and ice cream just helps; we take comfort in it. Try something new like a pint of Pistachio Gelato. Ice cream just makes everything better.

Getting Back to Normal
We are all looking forward to the day that we can carefully get back to normal. And we want you to know that you can count on us for all your essentials. We are all in this together.