Although Holiday Match checks have only recently arrived at their destinations, we are thrilled to see that many organizations are already hard at work helping their communities with this funding!
Since the program's inception in 1986, Stewart's Holiday Match has allocated more than $32 million to children's nonprofits. This year, with the help of our generous customers, we allocated over $1.88 million in Holiday Match grants to 1,715 nonprofits benefitting the kids in our communities. Check out some of the organizations below to see how they've been able to put their Holiday Match funds to use:
Masonic Care Community of NY
"We are so grateful for the contribution from Stewart's Holiday Match that will help support educational activities for children in our Child Care Center Programs!"
Youth2-Youth Helping Youth
"This is our very first Community Care Pop-Up effort, collecting over 1,000 socks and toothbrushes for 6-18 year olds of the SNACpack Program.  It was a major success! Many youths were involved in giving. Thank you, Stewart's Shops for making it possible!"

Valley Falls Free Library
"Thank you for supporting our children's program. With the money granted the children are able to sing, dance, read stories, create awesome projects, and learn! Without your help this wonderful program would not exist."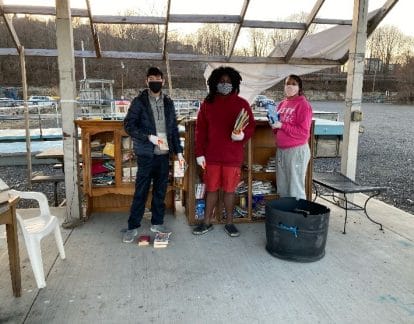 Newburgh Rowing Club
"We are pleased to share some photos from the club's after school rowing, fitness, and environmental programs over the past month. Several students attend through scholarships from America Rows and Swims Newburgh, thanks to the generosity of our donors!"
A listing of organizations who received Holiday Match funding can be found here. If you are with an organization who received funding and would like to share some photos, please send them to photo@stewartsshops.com!