Yorkville is a small village in Oneida county, New York and now the home to a brand-new Stewart's Shop.
Did You Know? The Erie Canal went right through parts of the Village of Yorkville. This is now Oriskany Boulevard. The new shop is located just off of Oriskany Boulevard.
Once an abandoned lot in need of clean up, Stewart's and the Department of Environmental Conservation worked together to clean up the property and offer the residents of Yorkville a brand-new beautiful Stewart's shop.
"The Oil Spill Fund, which is administered by my Office in coordination with the Department of Environmental Conservation and the Office of the Attorney General, assists with the cleanup of petroleum contaminated properties like this one in Yorkville," State Comptroller Thomas P. DiNapoli said. "Through our agreement with Stewart's, we are pleased to help return this previously contaminated property to productive use and get it back on the tax rolls for the village and the county."
The new Stewart's Shop will be a great asset to both commuters and local residents to stop in for their morning coffee, get a quick lunch or a quick stop for milk, bread and eggs on the way home. It is also located on the final turn of the Boilermaker route. The 15K road race attracts runners from all over the world.
"The Village of Yorkville is pleased to have Stewart's join our community. The addition of Stewart's has positively impacted the aesthetics of the Eastern end of the Village. Thank you, Stewart's, for adding to the beauty of the Village of Yorkville and creating employment opportunities for our residents." – Mayor Michael A. Mahoney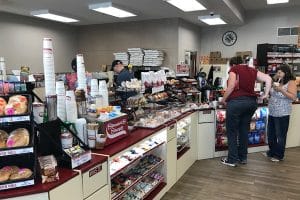 We proudly opened the doors in mid-August and on Friday, September 6th celebrated our Grand Opening.
In honor of this shop opening, Stewart's Shops donated $2,000 to the Yorkville Fire & Hose Co. to aid in the purchase of two Automated External Defibrillators.
This shop project is part of our continuous commitment to meet our growing customer needs; offering a wider variety of food and beverage options and to make their shopping experience even easier. Stewart's Shops is investing $50 million to build fifteen shops across its market areas in 2019, which will replace older, smaller locations. Plus, a number of remodels and additions will be completed.