Get excited because this week you can enjoy Stewart's 20oz Refreshers for only 99¢!
Did you know that there are over 100 ways to get Un-Thirsty at Stewart's Shops? This includes our line of Refreshers! They're the perfect way to stay hydrated while you're on the go. Whether you're grabbing a quick lunch, hitting the road, or just looking to quench your thirst, we've got something for you!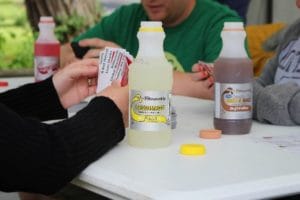 Stock up on any of these delicious flavors
Cold Brew Coffee
Lemonade
Diet Tea
Lemon Tea
Country Club Half & Half
Diet Country Club Half & Half
Raspberry Tea
Mango Tea
Diet Peach Tea
Green Tea
Xtreme Energy Tea
Unsweetened Brewed Tea
Fruit Punch
Blue Raspberry
Why pay 50% more when fresh tastes better?
Stewart's refreshers are fresh. It's a difference you can taste because we MOO (Make Our Own) for you, right at the Stewart's Manufacturing Plant in Greenfield Center, NY. The bottles are even made at the plant using a blow-mold machine and filled with the fresh Refresher flavors. Stewart's Refreshers are coded in days not months, so you know they're fresh.
When you stop in this week, make sure to grab your favorite flavors for just 99¢!