Stewart's Shops is always looking for innovative ways to take advantage of green energy like solar.
The Stewart's Plant Has Solar Panels Located on the Roof!
Our plant, located in Greenfield, New York has 2,400 individual solar panels on the rooftop. This initiative offsets $40,000 in energy costs per year! This is the equivalent of removing 80 cars off the road annually!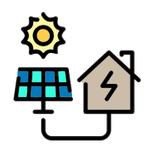 When Did The Solar Plant Project Start and Why?
We started implementing solar back in 2013. The solar plant project started as a way to become more cost effective and energy efficient. These panels helped us offset 15% of the energy cost of operations within the plant!
Stewart's Shops Branched Out and Joined a Solar Farm!
In 2016, we joined a solar farm. With the clean energy derived from this farm we were able to offset the energy of 18 shops! By 2019, this project was so successful that we expanded our solar efforts to support 22 additional shops!
Stewart's Shops Solar Today:
As of 2022, we are helping to offset about 50 of our shops and plants electricity usage by using this form of renewable energy. The success of solar at Stewart's Shops has motivated us to continue researching renewable opportunities such as Electric Vehicles and Hydropower Electricity.