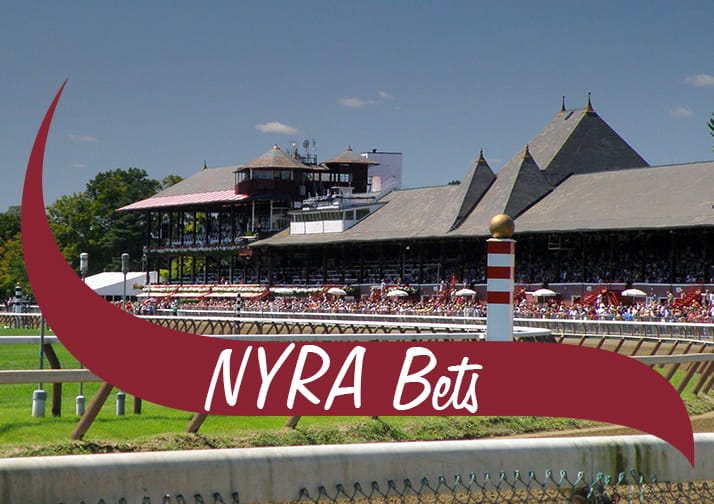 NYRA Bets Gift Cards will be available for purchase for the 2021 Triple Crown beginning Sunday, April 25, at more than 150 Stewart's Shops across the Capital Region.
After a highly successful launch of the NYRA Bets Gift Card program in 2020 during the Saratoga meet, NYRA and Stewart's Shops are making the gift cards available earlier than ever this year for fans to bet the Triple Crown which gets underway with the Kentucky Derby on Saturday, May 1.
"We're thrilled to partner once again with Stewart's Shops to provide horse racing fans with the accessibility and convenience of NYRA Bets Gift Cards to bet online with NYRA Bets," said NYRA Bets President Tony Allevato. "We were overwhelmed by the response of fans to the introduction of our gift cards last summer and are excited to make them available earlier than ever for fans who would like to bet the Kentucky Derby, Preakness Stakes and Belmont Stakes with NYRA Bets. We thank Stewart's Shops for its outstanding support."
NYRA Bets Gift Cards are available exclusively at participating Stewart's Shops in $50 denominations and may be used to fund both active and new NYRA Bets accounts to bet the Kentucky Derby on Saturday, May 1, the Preakness Stakes on Saturday, May 15, and the Belmont Stakes on Saturday, June 5.
What is a NYRA Bets Gift Card?
A NYRA Bets Gift Card is a preloaded card containing $50 to deposit in a NYRA Bets account, America's leading online betting platform. Each card includes a unique four-digit PIN. After purchasing the gift card, fans enter the PIN into their new or existing NYRA Bets account. The $50 will be available immediately to use when betting with NYRA Bets.
How does it work?
Racing fans can also use the gift cards to bet online at hundreds of tracks nationwide, including during the Belmont Park spring meet, which runs through Sunday, July 11, and the Saratoga Race Course summer meet, which opens on Thursday, July 15, and continues through Monday, September 6.
Where and when will NYRA Bets Gift Cards be Available?
NYRA Bets Gift Cards will be available at these Stewart's Shops April 25, 2021 through the conclusion of the Saratoga summer meet.
Do the cards expire?
No, NYRA Bets Gift Cards do not expire.
Are there processing fees?
There are no processing fees or premiums applied when purchasing or using a NYRA Bets Gift Card. NYRA Bets Gift Cards are available for purchase by cash only; credit cards are not accepted. For a complete list of participating Stewart's Shops locations, visit LINK.
More Information about NYRA Bets
NYRA Bets is the official wagering platform of The New York Racing Association, Inc.
Fans who use NYRA Bets Gift Cards to open and fund a new account will automatically qualify for a sign-up bonus. Registering for a NYRA Bets account is free. Details are available at NYRABets.com.
New members earn a sign-up bonus when they open up their account. The NYRA Bets app is available for download today on iOS and Android at https://www.nyrabets.com/#sign-up-bonus